Seychelles Mission  Office

The Seychelles Mission Office is currently administered by a President and the Executive Committee (EXCOM). From time to time the EXCOM meets to deal with key decisions or endorse actions by the Officers. EXCOM is made up of a selection of elected heads of departments, lay people and mission employees.  The Executive Committee is the primary source of church governance for the Mission.
         The work of Seychelles Mission

Mission is administered in 4 districts, each under the supervision of a district pastor whose role is to nurture the church and facilitate its mission.  It is envisioned that through the duration of this strategic plan, each church in Seychelles will have its own pastor.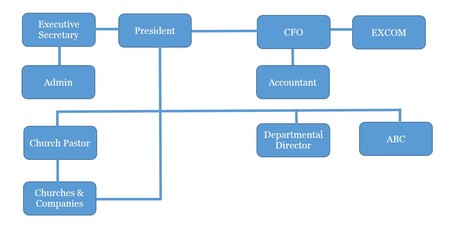 The Organisational 
Structure
Ancillary Staff: Work in the Seychelles Mission is supported by ancillary staff that performs a variety of functions vital to the working of the Mission. These include Janitorial services.
Field Staff: Field Staff including Pastors, Literature Evangelists and Global Mission Pioneers are directly employed, supervised and supported by the Seychelles Mission.

 Local Congregations in Seychelles are categorised either as companies or organized churches. Here is the difference:
Organised Churches - meaning an officially constituted body of believers with its own membership role,
officers and constituency.
Organised Churches and their members are the constituents of the Seychelles Mission (MSEY).
Companies - designate a group of believers who are members of an organised church but meet in another location,
building or sub-district. 
They are officially organised by the Mission and administered by the local churches.
Central and West coast District Churches consists of Victoria church, Port Glaud Church and Grand Anse Mahe Company. They falls under the 
responsibility of District Pastor Nelson Joubert.

Southern and Eastern District Churches consists of Anse Royale Church, Val D'en Dor Company and International church. They fall under the responsibility of District Pastor Michael Bijoux.
Inner Islands Districts Churches consists of Grand Anse Praslin Church and La Digue Company. They fall under
the responsibility of District Pastor Vola Rakotoarijaona.
Northern District Churches consist of St Louis Church and Abse Etoile church and they fall under the responsibility of District Pastor
Abel Ntep.                                                                                                                                                 

Seychelles Adventist Mission Personnel
Seychelles Mission President
/Personal Ministries and Sabbath School Director and Ministerial Association


Pastor Jean Mesmert Solofo Georges

Chief Financial Officer: 
Hugh Watts
 Admin/Account's Clerk: 
Nidza Freminot 


Senior Accountant:


Samia Malchilchi
Recording Secretary:
Doris Bick


District Pastor/Adventist Youth




and Chaplaincy Ministries Director: 


Ntep (Abel) Ntep

District Pastor/Stewardship

 Director: 


Nelson Joubert

District Pastor/Ministerial and 




Family Life Ministeries 


Director/Religious Liberty Director:
Michael Bijoux

District Pastor and Spirit of Prophecy Director: 


Vola Rakotoarijaona
      Heads of Departments and Associates
Personal Ministries
Associate Director: 
Michel Marie

Women Ministries 




Director: 


Sabrina Watts
Prayer Ministries
Director: 
Meshack Ochiel

Sabbath School 


Associate Director:
Stephen Ayayo

Personal Ministries




Associate Director: 


Cyril Hall

Womens Ministries




Associate Director: 


Josette Edmond
Publishing Ministries Director 
and ABC: 
Gemma Changty-Young

Music and Public


Affairs Director:
Natalie Edmond



Adventist Youth 

and Chaplaincy 
Ministries Associate Director: 
Denis Meriza

Adventist Youth 

and Chaplaincy 
Ministries Associate Director: 
Marie-Louise Pierre

Adventist Youth 

and Chaplaincy 
Ministries Associate Director: 
Kevin Vidot

Ministerial and Family 




Life Ministeries Director




Associate Director: 


Veronique Bijoux

Children Ministries 


Director
Betty Seraphine
Children Ministries


Associate 

Director: 


Marie-Mai Marie
Children Ministries
Associate Director:
Thelma Renaud
Children Ministries 
Associate Director:
Annabelle Baker

Education Director: 


Marie-Mai Ntep

Education Associate Director: 


Juliana Agathine

Trust Liaison Coordinator:


Alice Ochiel

Sabbath School Associate Director:


Jemima Bijoux


Communications Director:


Felix Maranga

Communications Associate 




Director: 


Alain Dingwall 



Communications Associate 




Director: 


Kenny Renaud

Communications Associate 




Director: 


Nadia Vidot 

Health Ministries Director: 


Monica Fock-Tave
Health Ministries
AssociateDirector: 
John Dubel

Health Ministries
Associate Director: 
Inese hall
Health Ministries
Associate Director: 
Sarah Sabadin

Children's Ministries 
Associate:
Tracy Confiance
Community Service
Director:
Paul Baker
Community Service
Associate Director:
Nidza Freminot
Former Shepherdess:


Donna Baxen